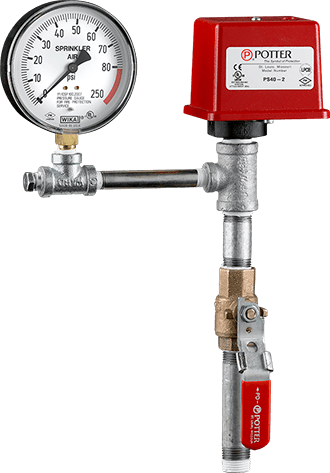 The PS-TM Series is the industry's FIRST AND ONLY completely pre-assembled low pressure test module for dry pipe and pre-action systems.
The PS-TM Series provides a fast and foolproof way to confirm the system meets the requirement of NFPA 72, 2013, 14.4.3.2 and to perform the test required by NFPA 25, 2014, 13.4.3.2.13 and 13.4.4.2.6.
The PS-TM Series also eliminates any possibility of accidentally tripping the dry pipe valve during testing. Closing the BVL bleeder valve isolates the Supervisory Pressure Switch and pressure gauge from the air source while exhausting the supervisory air pressure between the bleeder valve and the Pressure Switch. This can save hours of time waiting for pressure to bleed down then build back up, as is the case in the old conventional testing method. This is especially important when using nitrogen generators as it can save a lot of wear on the generator components.
Unique Features
Completely assembled unit
Manufactured from Galvanized Pipe
BVL Bleeder valve included for easy testing without the possibility of trippiing the system
High / Low pressure switch for standard or low differential dry valves
High quality 250 PSI gauge. Easy to read 0-80 psi scale with retard to 250 psi
Codes and Approvals
NFPA 72, 2016, 17.16.2.2.2
NFPA 25, 2014, 13.4.4.2.6
The PS40-2 and PS15-2 pressure switches are UL, cUL, CSFM, FM, LPCB and CE
Engineering Specifications
Pressure Supervisory Switch Test Manifold for Dry Pipe and Preaction systems
A completely pre-assembled supervisory pressure test manifold shall be furnished and installed on the system side of a check valve located at the system pressure connection of each dry pipe valve and preaction system and where indicated on the drawings and plans and as required by applicable local and national codes and standards. The manifold shall be manufactured of galvanized pipe and shall consist of a UL, CUL Listed / FM, LPCB Approved and CE Marked high / low pressure supervisory switch, ½" BVL bleeder valve, and 3 ½" gauge with 0-80 psi scale with retard up to 250 psi. The bleeder valve shall be in line with the pressure switch and gauge. Closing the BVL shall isolate the pressure switch and gauge from the supply pressure maintaining the integrity of the system pressure while simultaneously venting the pressure at the switch and gauge allowing the trip point of the pressure switch to be observed on the gauge. Opening the BVL re-introduces system pressure back to the pressure switch and gauge allowing the pressure switch to restore to a normal condition. The test manifold shall be a model PS40-TM or PS15-TM depending on the supervisory pressure needed for the dry valve manufactured by Potter Electric Signal Company LLC.
Additional Engineering Information
The gauge is an easy to read 3 1/2" 0-80 psi scale with a retard up to 250 psi
There is a port to allow for the connection of a calibrated gauge
It allows for fast, easy, foolproof testing of supervisory pressure with no danger of accidently tripping a system
Great for systems with nitrogen generators because it saves nirogen so the generator runs less
Installation Tips
Installs in place of the standard supervisory pressure switch on the trim of all dry pipe valves
Tech Tips
Slowly closing the BVL allows the pressure gauge to be observed to determine the exact trip point of the pressure switch
Other Information
It eliminates the possibility of tripping the dry valve
For use on dry or preaction systems
Saves time and money. There is no need to bleed air off the entire system so you don't have to wait fot the compressor or nitrogen generator to build pressure back up
Click here to view more info about the PS-TM
For additional questions, contact customer service: sales@pottersignal.com, or tech support: tech@pottersignal.com
---
Back to All News