Air
Venting
Are you up to code? We can get you there.
Potter offers UL Listed & FM Approved automatic air vents for fire sprinkler systems. Designed to reduce the amount of air in a fire sprinkler system with little or no maintenance, they are the ideal choice for meeting NFPA 13 7.1.5.
Automatic air vents are the easiest and most cost effective solution to eliminate trapped air pockets in your sprinkler system. Simply install a Potter PAAR-B or Potter PAV at the high point on your sprinkler system most remote from the riser. As the system fills, the corrosive oxygen can escape and the system can fill with water.
What about dissolved oxygen?
The amount of oxygen in water is around 10 parts per million, or .001%. The amount of oxygen in trapped air is 210,000 parts per million, or 21%. Removing the dissolved oxygen from water is negligible when compared to the amount of oxygen in the trapped air pockets. Focusing on removing the trapped air is the number one priority and the most cost effective method.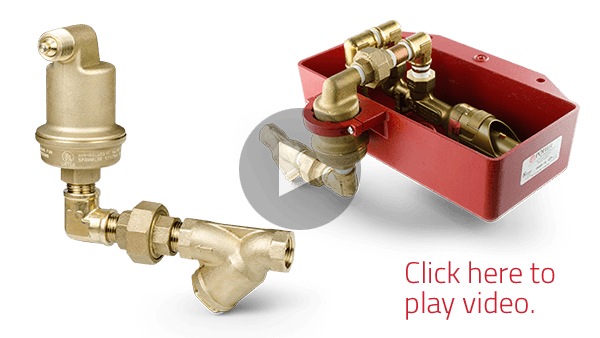 Code
Required
Potter's Automatic Air Vents help you meet NFPA code.
In a major change that impacts installers, the 2016 NFPA 13 adds a new requirement that a single air vent be installed for each wet sprinkler system to help reduce potential corrosion activity due to trapped air. See below:
7.1.5 Air Venting
A single air vent with a connection conforming to 8.16.6 shall be provided on each wet pipe system utilizing metallic pipe.
8.16.6 Air Venting
The vent required by 7.1.5 shall be located near a high point in the system to allow air to be removed from that portion of the system by one of the following methods:
Manual valve, minimum 1/2" size

Automatic air vent

Other approved means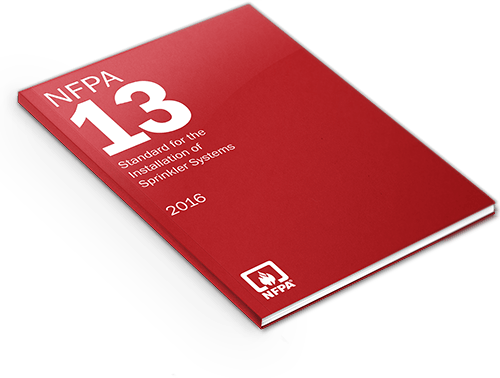 NFPA
Findings
An NFPA task group addressed the issue and concluded that venting the trapped air in a wet system could:
Reduce corrosion activity

Reduce alarm ring delay

Reduce water flow alarm cyclic ringing
The best solution to meet the code!
The Potter PAV is a UL listed and FM approved automatic air vent for fire sprinkler systems. It is designed to reduce the amount of air in a fire sprinkler system will little or no maintenance. It is the ideal choice for meeting NFPA 7.1.5. The product is also available as a PAAR-B with drip pan. Andy Kaempfer, Product Manager for the Corrosion Division at Potter said,
"We think that this code requirement is great for the fire protection industry. It will ensure the longevity of pipe systems by reducing corrosion, saving building owners time and money." Kaempfer continued, "I think the Potter PAV is the best solution to meet the new requirement. It is easy to use and the fact that it is automatic saves time and money."
Code
Required
Potter's Automatic Air Vents are recommended by FM Global.
In a recent study by FM Global, leaders in loss prevention, it was determined that corrosion in fire sprinkler systems is a significant issue and can lead to leaks and system failures. One of the leading contributors to corrosion is trapped air in wet pipe systems.
Trapped air in wet pipe systems

Trapped air in wet pipe systems provides the oxygen source for steel pipe corrosion. Minimizing air pockets in wet pipe systems is recommended. An air release valve, which is capable of venting trapped air in the pipe, can mitigate this kind of corrosion. Limiting the introduction of oxygenated fresh water into the piping system can also be an effective mitigation strategy for wet pipe systems. Similar to the dry pipe or preaction systems, nitrogen gas can also be used as a supervisory gas to reduce oxygen concentrations in the sprinkler water of wet systems.

— FM Global
To view the entire article on FM Global's findings and to download the research paper, Corrosion and Corrosion Mitigation in Fire Protection Systems, click below.
Click here to learn more
Image: FM Global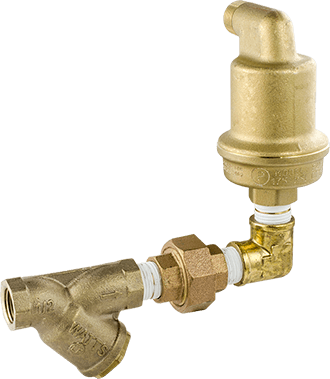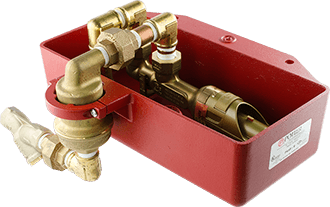 Automatic Air Release with Drip Pan
Wet System
Solutions
Looking for other ways to combat wet system corrosion?
Replace the oxygen with nitrogen
Reducing the oxygen levels in wet fire protection systems is essential in protecting the system from the effects of oxygen related corrosion often found at the air water interface in the fire sprinkler piping.
Potter AquaN₂
Prevent the introduction of new oxygen
The VSR-AT is a UL Listed and FM Approved flow switch that can be tested without flowing water and introducing new oxygen into the system.
VSR-AT