Corrosion in
Wet Systems
Corrosive oxygen in your wet system
It may not seem possible that a new sprinkler system can produce pinhole leaks in less than two years, but it is. The corrosive effects of oxygen trapped in your wet system could be more costly than you think.
Where does the oxygen come from?
A common misconception is that the piping array of a wet fire sprinkler system is completely full of water. However, research shows that fire sprinkler systems can actually be up to 70% trapped air.
If the trapped air in a wet fire sprinkler system is not properly eliminated, an environment for accelerated corrosion occurs, and the life expectancy of that fire sprinkler system decreases.
Trapped Air Causes:
Increased generalized corrosion (more oxygen)

More conducive environment for MIC growth

Unnecessary false flow alarms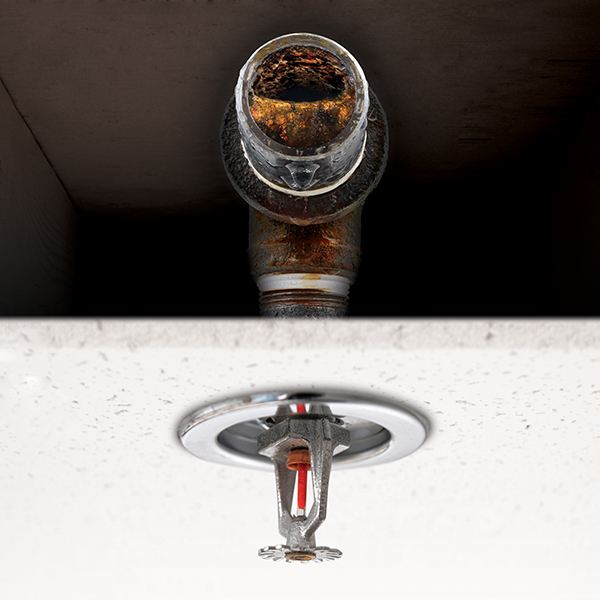 Wet System
Solutions
Potter provides three excellent ways to mitigate wet system corrosion:
Remove the oxygen from the system
Potter offers UL Listed and FM Approved automatic air vents for fire sprinkler systems. Designed to reduce the amount of air in a fire sprinkler system with little or no maintenance, they are the ideal choice for meeting NFPA 13 7.1.5.
Potter Air Vents
Replace the oxygen with nitrogen
Reducing the oxygen levels in wet fire protection systems is essential in protecting the system from the effects of oxygen related corrosion often found at the air water interface in the fire sprinkler piping.
Potter AquaN₂
Prevent the introduction of new oxygen
The VSR-AT is a UL Listed and FM Approved flow switch that can be tested without flowing water and introducing new oxygen into the system.
VSR-AT