The IntelliGen™
Advantage
The Intelligen™ Nitrogen Generator Series is the only line of intelligent nitrogen generators for fire sprinkler systems. Every IntelliGen™ unit comes equipped with built-in IntelliGen™ Controller software. This software monitors every aspect of the nitrogen generator to ensure the unit is working at optimal performance.
The IntelliGen™ Nitrogen Generator monitors pressure, runtime, power, connectivity, and operational mode. By monitoring these activities, the system can indicate development of sprinkler system leaks, user interaction, or possible maintenance requirements.
Air Fill and
Nitrogen purge automation
With Potter's advanced IntelliGen™ Controller, the generator collects information and uses proprietary algorithms to determine if the unit needs to be in Bypass Mode or Nitrogen Generating Mode.
Our IntelliGen™ Nitrogen Generators are as easy to install as a standard air compressor. There is no need to manually change ball valve configurations or worry if the unit is producing nitrogen. This not only ensures a sprinkler system fill time of 30 minutes as required by NFPA 13, but also that high purity nitrogen is protecting your system from corrosion, all without any user intervention.
Leak rate detection
and trouble notification
Catch the leak before it's a problem! The IntelliGen™ Controller actively monitors the pressure loss of your sprinkler system. If unexpected leaks occur the nitrogen generator will give you advance warnings.
Additionally, the runtime is monitored and the system will notify you when your system needs maintenance. There is no guessing or forgetting about changing filters.
With a built in bypass alarm, you will be alerted to any trouble coniditions.
Web Monitoring
and email capabilities
With Potter's IntelliView™ Dashboard, you can connect and monitor your IntelliGen™ Nitrogen Generator from anywhere in the world. Simply connect the unit to your building's existing network and register at www.PotterIntelliView.com. Within minutes you will have access to system status, purge valve and nitrogen purity information, maintenance, historical data, and much more!
Multiple buildings and nitrogen generators are supported allowing a property owner or building manager to monitor all of their IntelliGen™ Nitrogen Systems from one location. System administrators can even register additional users to view system information.
Additionally, our IntelliGen™ Nitrogen Generators can automatically send email alerts for trouble conditions and maintenance reminders.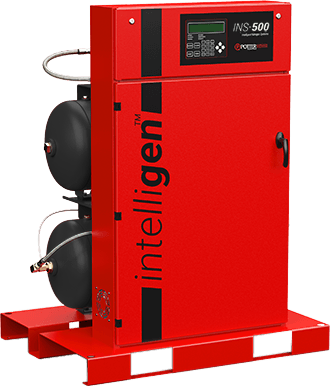 Potter's line of Integrated Nitrogen Systems is designed specifically for smaller dry and pre-action fire sprinkler systems. When space is at a premium, these units easily fit where others can't. Just pipe directly from the nitrogen outlet to the air maintenance device to start protecting the system from corrosion.
500 Gallon Largest Riser Fill and 1,850 gallons of Total Sprinkler System Capacity
1,000 Gallon Largest Riser Fill and 3,400 gallons of Total Sprinkler System Capacity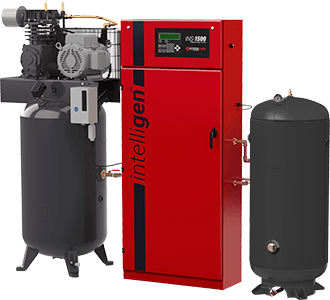 Our modular line of Nitrogen Generators allows us to design a unit specifically for any fire sprinkler system; while ensuring that a unit economically meets all corresponding NFPA requirements for fire sprinkler systems. These units are typically for larger dry systems or for applications where several sprinkler systems will be operated by one unit.
2,000 Gallon Largest Riser Fill and 6,200 gallons of Total Sprinkler System Capacity
2,400 Gallon Largest Riser Fill and 12,000 gallons of Total Sprinkler System Capacity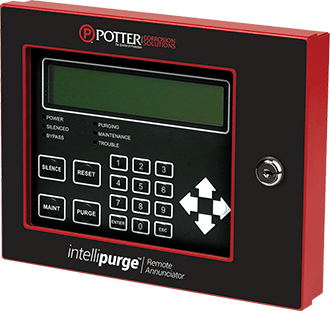 LCD remote annunciator for the IntelliPurge® Nitrogen System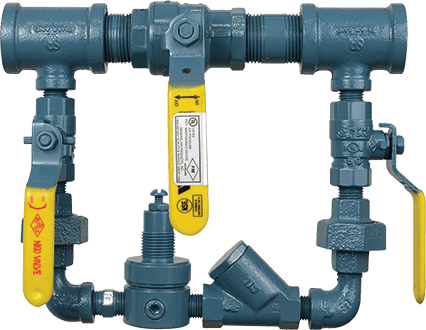 Air maintenance device used to control the supervisory nitrogen pressure in a dry pipe sprinkler system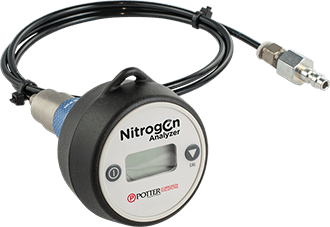 Portable nitrogen analyzer for determining nitrogen purity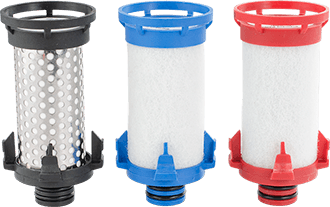 Field replacable filters that ensure lasting operation
Engineering
Submittal Packet
Download Potter's IntelliGen™ engineering submittal packet including engineering specifications, Revit files, drawings, manuals and more!
Download Engineering Submittal Packet
Sizing
Your Job
Sizing your nitrogen generator system requires three important pieces of information:
1
Supervisory Pressure
This is the air pressure required to keep the dry valve closed, usually ranging between 20 and 40 PSI.
2
Largest Riser in Gallons
This is the total volume (in gallons) of the largest riser to ensure NFPA requirements of 30 minute fill time.
3
Total System Capacity
This is the total volume (in gallons) of all the risers that being supplied by the Nitrogen Generator.
Are you ready to complete your system with a Potter Nitrogen Generator? It takes more than just knowing total gallons to properly size a nitrogen system for corrosion protection. We will work with you to provide the best nitrogen solution.
To ensure that you have the properly sized nitrogen generator for your application, please fill out this quick form.
Nitrogen Generator Project Form