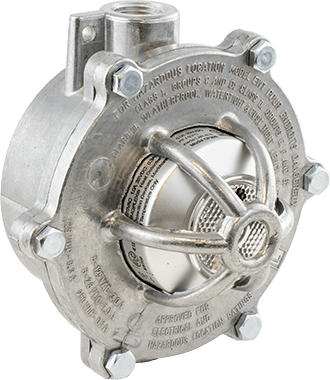 THERMOFLEX® CR-EWT Series
Obsolete Product
Explosion Proof Rate of RiseTemperature Heat Detector
---
A cast aluminum housing encloses a standard THERMOFLEX® heat detector making it suitable for use in hazardous locations including those requiring detectors that are explosion proof, water and dust tight. The suffix EWT denotes a unit that is suitable for areas described as:
Class I, Groups C and D
Class II, Groups E, F, and G
Class III
Applications requiring Special Purpose Enclosure Types III, IV, and V, Weatherproof, Water-tight, and Dust-tight
The THERMOFLEX® product group includes standard detectors as well as detectors for hazardous locations and moisture-proof applications. Each detector is available in single or multiple circuits with open and/or closed contact configurations. The prefix CR in the model number denotes rateor-rise and fixed temperature operation.
---
---
Documents & Resources
---
Literature