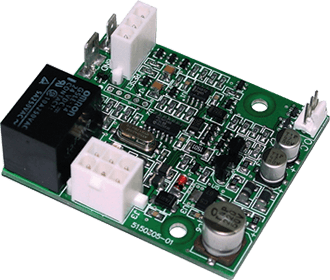 LTB
Board Style Low Water Cutoff
---
The Board Style Low Water Cutoff (LTB) is an advanced, microprocessor based low water cutoff for detecting the presence of water in a boiler. The LTB uses advanced signal processing to identify when the probe signal levels have decreased due to possible fouling. These advanced technologies permit extended operation for probe impedance up to 40K Ohms. The LTB functions longer without requiring probe cleaning, and it functions normally under nonideal installation conditions. The LTB is designed for use with hot water boilers and hot water heating boilers. (See each boiler manufacturers' specifications for recommended minimum safe water levels).
During a low water condition, the "Status" LED will illuminate RED. Under normal conditions, it will illuminate GREEN. See "Status LED States" table for details.
Contact boiler OEM for technical details.