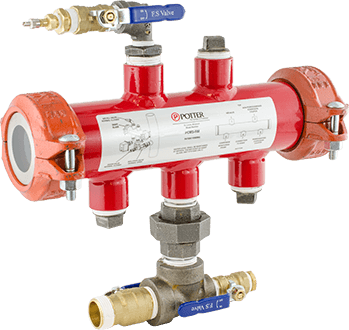 The Model PCMS-RM is a Corrosion Monitoring Station-Riser Mount consisting of a coupon rack that is installed on fire sprinkler riser to monitor corrosion in a fire sprinkler system, and is designed to simulate conditions within the fire sprinkler system. The coupon rack can be isolated from the fire sprinkler riser and easily accessed for servicing and monitoring of test specimens(corrosion coupons) without interruption to fire protection. Test material strip specimens (corrosion coupons) are installed into the coupon rack using coupon holders. The PCMS-RM can be used on wet or dry pipe systems.
Unique Features
Suitable for use on wet, dry or preaction systems
Rated for 250 psi
Comes pre assembled with Zurn fitting to easily pressurize with air when used on wet systems
Codes and Approvals
Subject to AHJ Approval it may be used as a method to conduct internal pipe inspections in accordance with NFPA 25, 2014, 14.2.1.
Subject to AHJ Approval it may be used to monitor the interior of the pipe in accordance with NFPA 13, 2013, 24.1.5
Engineering Information:
Pre-assembled and pressure tested
Optional probe is engineered to simulate what FM considers an allowable 5 year pipe wall loss
Can be installed anywhere in the system
Allows for easy access to water samples and corrosion coupons without disabling or disturbing the sprinkler system
Installation Tips:
Screws onto a 1" male npt threaded connection.
Install the device level so as not to trap any water
If installing on a wet system, close the isolation valve and pressurize the PCMS with air to about 50% of what the water pressure is. Then when the isolation valve is opened, the PCMS will fill half way with water. This creates a worst case scenario
Additional Information
Click here to view the PCMS-RM datasheet.
For additional questions, contact customer service: sales@pottersignal.com, or tech support: tech@pottersignal.com
---
Back to Latest News