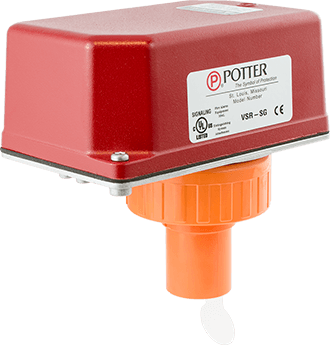 The Model VSR-SG is a vane type waterflow switch for use on wet sprinkler systems using CPVC plastic fittings. It is equipped with a union to accommodate installation in confined spaces.
Unique Features
VSR-SG, The only flowswitch for CPVC pipe
Union coupling allows for installation in areas where there isn't room to screw the device into a fitting
Fits all CPVC (VSR-SG) and threaded tees (VSR-ST) from 1" - 2"
Codes and Approvals
UL, cUL, CSFM
Service use; NFPA 13, 13D, 13R and 72
Engineering Features
Allows for faster easier installation
The union coupling allows them to be installed in a standard 2 x 4 wall with drywall already installed on one side
Installation Tips
VSR-SG - Glue the male coupling into the CPVC tee making sure the coupling bottoms out into the tee
VSR-SG - Make sure the glue is dry before installing the flowswitch
VSR-SG & VSR-ST - Verify that the o-ring is properly positioned in its groove in the union coupling
Tech Tips
Pay attention to the wiring diagram. The device does not require power to operate. It is just a switch. Wiring it to operate a bell is the same as wiring a light switch to turn on a light
The Bull portion of the tee where the flowswitch installs must be factory 1", reducers are not allowed. The Run portion of the tee can be from 1" - 2"
VSR-ST, screw the fitting into the tee until there is approximately 1/2" clearance between the top of the tee to the bottom of the threads on the fitting
Additional Information
Potter also makes CPVC risers that fit in standard 2 x 4 wall construction. The risers are from 1" - 2" and are complete with VSR-SG, test/drain valve and pressure gauge
Click here to view the VSR-SG datasheet.
Click here to view the VSR-ST datasheet.
For additional questions, contact customer service: sales@pottersignal.com, or tech support: tech@pottersignal.com
---
Back to Latest News