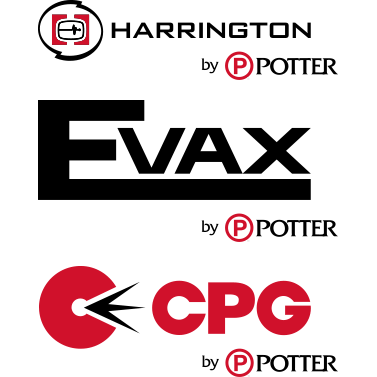 Potter announces the acquisition of three mainstay product lines in the fire alarm industry: Harrington Fire Alarm, Evax Systems, and CPG Signals. The acquisition of these three product lines will not only strengthen Potter's position as a leader in life safety products, but will also broaden the range of products and services available to customers in order to meet all their fire protection needs. By incorporating the technologies of these products, Potter will expand its fire system and voice product lines, providing customers even greater access to the markets they serve.
Dick Eisenlauer, President of Harrington Signal Inc. said, "We at Harrington Signal look forward to the benefits that this acquisition will offer our customers. The corporate values established in the early 1900s by both Charles Potter and Fred Harrington continue to this day. Potter has demonstrated standards such as providing an excellent work environment and focusing on outstanding customer service; leaving us certain that our customers will be in good hands."
Potter expects the transition of buying products from Harrington Signal, Inc. and Evax, Inc. to Potter to be relatively seamless. The excellent customer service staffs of Harrington Signal, Inc., Evax, Inc. and Potter will be available to ensure that all new purchasing occurs without a glitch. The exceptional product and support, for which these three brands are well known, will be further enhanced by Potter's unequaled customer service and tech support.
Dave Kosciuk, EVP of the Fire/Security Division at Potter said, "The acquisition of Evax, Harrington Fire, and CPG is exactly what Potter needed to fill in the gaps in our product line. We have been continuously updating and moving our product line up market and this accomplishes many of the requests from our dealer base as we add networking, smoke control, and low and high rise voice to our product portfolio. We look forward to bolstering the relationships that have already been established and making them a part of the Potter customer family. Being the only independent manufacturer with a full line of fire alarm and voice system solutions, Potter looks forward to strengthening our footprint in the life safety market and continuing to build on the successes we've had."
---
About Harrington
Harrington Fire Alarm provides state of the art fire alarm system products for a wide variety of vertical commercial and institutional markets. Product lines include conventional and addressable fire control panels, smoke detectors, annunciators, duct detectors, and more.
---
About Evax
Evax has been a global leader in voice evacuation and mass notification systems for the past twenty years. Evax provides a wide array of products for use in commercial, institutional, high rise, military and industrial markets. Product lines include large head-end bulk amplifiers, distributed audio, small side-car voice evacuation systems, fire fighter telephone systems and mass notification systems.
---
About CPG
CPG Signals' products are recognized leaders in the commercial and industrial explosion proof notification markets worldwide. Product lines include explosion proof speakers, strobes, horns and an array of other explosion proof signaling devices.
---
Back to Latest News