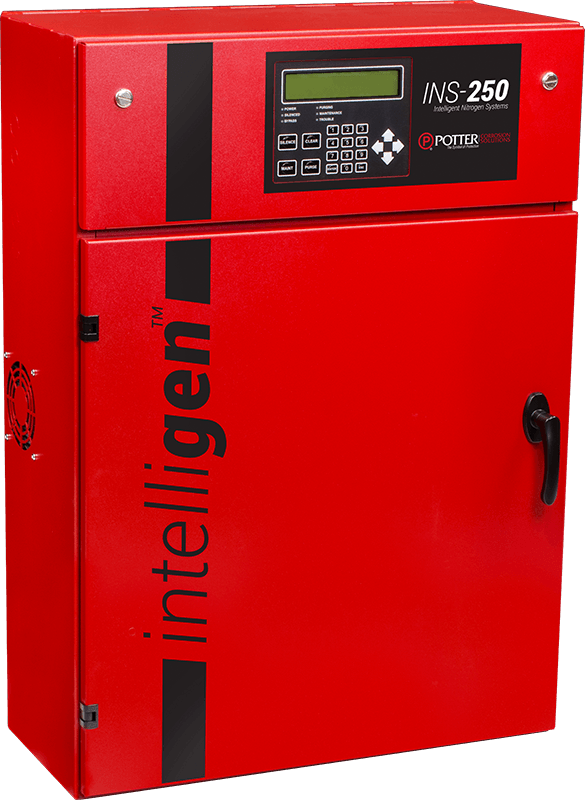 Announcing the release of the INS-100 and INS-250. These two units are the latest in the line of Potter IntelliGen™ Nitrogen Generators, and are built for smaller systems with the capability of being wall hung for compact applications. The INS-100 has a bypass fill capacity of 160 gallons at 40 PSI and a total system capacity of 675 gallons. The INS-250 has a bypass fill capacity of 300 gallons at 40 PSI and a total system capacity of 1,000 gallons.
Just like the rest of the IntelliGen™ line of nitrogen generators, the INS-100 and INS-250 utilize the patent pending IntelliGen™ Controller software. This intelligent technology facilitates every aspect of the nitrogen generators including pressure, runtime, power, connectivity, and operational mode. This ensures that the unit is working at optimal performance. Using this information and proprietary algorithms, the IntelliGen™ can determine if the unit needs to be in Bypass Mode or Nitrogen Generating Mode. Also, by monitoring the generator activity, the unit can indicate development of sprinkler system leaks, user interaction, and if maintenance needs to be performed on the generator.
Josh Tihen, Director of Product Management said,
"We are very excited to offer such simple, easy to install solutions in sizes that will be perfect for all applications. Providing our customers with a high level of technology, while maintaining the ease of use and great quality that they expect from Potter continues to be our goal in every product we produce."
The INS-100 and INS-250 are available for purchase immediately.
---
Back to Latest News