The INS-600 Can be Wall Mounted and Offers A Higher Capacity at Lower Cost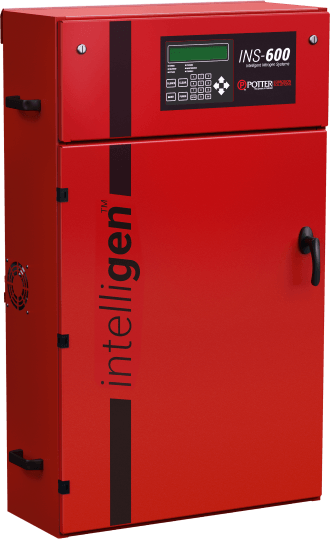 Potter announces the release of the INS-600. This unit is the latest in the line of Potter IntelliGen Nitrogen Generators and is capable of being wall hung for compact applications. The INS-600 has a Bypass Fill Capacity of 525 gallons at 40 PSI and a Total System Capacity of 2,350 gallons. This is a higher output than similarly priced units on the market.
Potter's Intelligen Nitrogen Generators are the only nitrogen generators on the market that are fully automated. The units automatically switch from Bypass Mode to Nitrogen Generating Mode when appropriate. Every aspect of the nitrogen generator is monitored to indicate development of sprinkler system leaks, user interaction, and if maintenance needs to be performed on the generator. Activity notifications can be viewed on site or remotely via Potter's IntelliView™ app.
Andy Kaempfer, Director of Product Management said,
"We are very excited to offer a unit that gets our customers above the 2,300-gallon Total System Capacity at such an affordable cost. Compared to other units available on the market, the INS-600 easily provides the best value."
The INS-600 is available for purchase immediately.
---
Back to Latest News