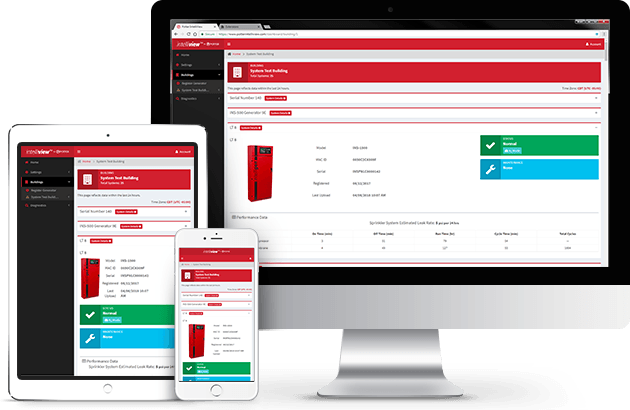 Potter announces the release of the IntelliView™ mobile app. Now available to download in the iOS and Google Play app stores, this app provides the same info as the web-based IntelliView dashboard but allows for easier access to monitor your nitrogen systems on all of your devices.
The IntelliView App allows the user to monitor their Potter IntelliGen nitrogen generator from anywhere in the world. Simply connect the nitrogen generator to the building's networked internet connection and download the IntelliView app to create an account and register your nitrogen generator. From here, you will be able to remotely view the status of your nitrogen generator and any networked IntelliPurge valves conveniently from your tablet or smartphone.
With the app, you will be able to monitor every facet of your Potter Intelligen system:
System Status
System run times, advance leak rate, and automatic bypass capabilities are all monitored and can be viewed with the app.

System Analytics
System leak rate, run time, and nitrogen purity are shown through easy to understand graphs that allow you to quickly monitor the performance of your IntelliGen units.

Multi-System Management
Manage multiple buildings or a campus from one location using the IntelliView app.

User Administration
System administrators can add and remove additional users to view system information and be alerted when maintenance alerts are triggered.
Eric Lauver, Director of Marketing Communications at Potter said,
"This app will make the already simple process of monitoring Potter's N2 Generators even easier. We're always working to improve each customer's product experience and the IntelliView app literally puts this innovative technology in the palm of their hand!"
For more information on the IntelliView app and dashboard, click here.
---
Back to Latest News