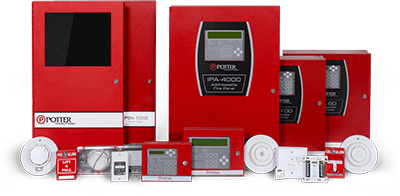 Potter is proud to announce the launch of the IPA Series of Addressable Fire Panels. These panels range in capacity from 60 to 4064 points, and offer the same enhanced IP features as Potter's current line of panels, but will additionally support a brand new line of addressable SLC devices designed and assembled by Potter in the USA.
Click here to view IPA Series and PAD product information.
The new line of 32 SLC devices, named PAD Modules, is designed to flawlessly integrate with the IPA Addressable Fire panels and will make monitoring the panels simple and effective. Like the panels, these products are also proudly assembled by Potter in St. Louis, Missouri.
Jeff Hendrickson, V.P. of Product Management for the Fire/Security division of Potter said
"The IPA line of addressable panels and the PAD SLC Modules will make installations and monitoring much simpler tasks. We are confident that the added points will benefit those looking for maximum coverage with their fire alarm system."
Dave Kosciuk, Executive V.P. and General Manager for the Fire/Security division at Potter said
"While we are very excited about the technological advances implemented in these products, we are also thrilled to be one of the few domestic fire companies able to offer a full line of proprietary fire alarm systems."
Potter's IPA Series panels and PAD modules are only available through Potter's Engineered Systems Distributor program. Please visit this link to inquire about becoming a Potter ESD for full access to the IPA Series product line:
---
Back to Latest News