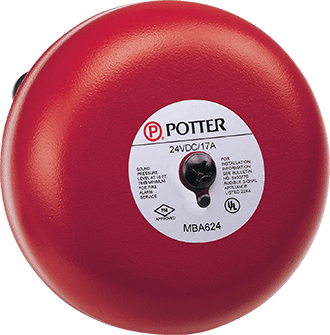 The models PBA-AC and MBA-DC vibrating type bells are designed for use as fire, burglar or general signaling devices. They have low power consumption and high decibel ratings. The unit mounts on a standard 4" (101mm) square electrical box for indoor use or on a model BBK-1 weatherproof backbox or BBX-1 deep weatherproof backbox for outdoor applications. Weatherproof backbox model BBK-1, Stock No. 1500001.
Unique Features
Available in 6", 8" or 10"
Available in 12 or 24 vdc or 24 or 120 vac
Suitable for indoor or outdoor use. Outdoor use requires BBK-1 backbox
AC Bells are made in the USA
Codes and Approvals
Engineering Specifications
Bells: UL Listed/FM Approved indicating appliances of the vibratory or motor bell type shall be furnished and installed where indicated on the drawings, and as required by NFPA Standards. Models shall be available to match voltage sources for 24 or 120 VAC, 12, or 24 VDC operation. Models for use on DC shall be polarized for supervision. All bells shall include transient voltage suppression. Models shall be available with 6, 8, or 10 inch gong sizes to meet various decibel requirements of the installation. Gong shall be constructed of steel with a red baked enamel finish. Bells shall surface or semi-flush mount on standard 4 inch square electrical boxes for indoor use. For outdoor use a custom weatherproof backbox shall be available. Bells shall be Model PBA for AC use or Model MBA for DC use, both manufac¬tured by Potter Electric Signal Company.
Additional Information for Engineers:
Very low current draw and high Db output
Built in transient protection
Available with bracket to mount protective wire cage
Installation Tips
Mount to verticle surface such as walls only. Do not mount in a horizontal position.
Striker must point down towards ground.
A deep backbox is available, model BBX-1
Tech Tips
If a 120 VAC bell is going to be connected to a flowswitch, the wiring method will be similar to wiring a light switch to turn on a light bulb. The flowswitch is just a switch. Use it to switch the hot wire to the hot side of the bell. The neutral wire should not be connected to the flowswitch. It should go directly from the service panel to the neutral of the bell.
Additional Information
Click here to view the PBA-AC and MBA-DC datasheet.
For additional questions, contact customer service: sales@pottersignal.com, or tech support: tech@pottersignal.com
---
Back to Latest News