Potter announces the release of the NCE-1000 and NCF-1000 Networking Cards, which allow peer-to-peer networking between the IPA, AFC, ARC and PFC-4064 systems.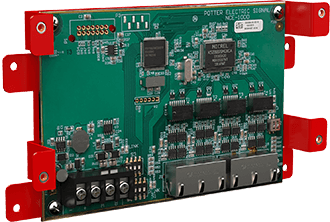 The NCE-1000 and NCF-1000 allow for networking between fire alarm panels using ethernet cable and fiber optic cable (single mode or multi-mode) respectively. Up to 200 panels can be networked together, and once the cards are integrated, certain devices can be set up as global annunciators for the peer-to-peer network.
In addition to multiple options for networking any size building or campus, reference points allow a network to be programmed so that one panel's events can cause an action in one or multiple control panels. This can all be set up across either addressable or conventional systems using Potter's simple drag and drop programming software.
Amy Liedman, Potter's Director of Fire and Security Product Management said,
"These new networking cards will allow Potter users much more flexibility in setting up their fire and life safety systems. Along with our graphical monitoring control software, PotterNet, the new peer-to-peer functionality of Potter systems are a perfect solution for high-rises and large campuses. We are excited to bring networking functionality to our already robust fire alarm systems, backed by the best warranty and support in the industry!"
Click here to learn more about Potter's Peer to Peer Networking!
---
Back to Latest News