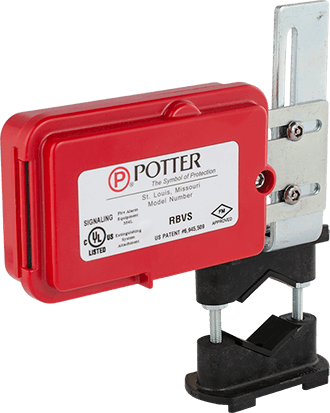 The Model RBVS is designed to monitor the fully open position of a ball valve installed in a sprinkler system. The unit will fit on most ball valves installed on back-flow-preventers and alarm trim lines of dry, alarm, and deluge sprinkler valves. The switch operates if the ball valve handle is moved from the open position. However, the switch does not track the position of the handle or ball. When the ball valve handle is in the open position, a spring-loaded switch button will contact the valve handle. When the handle is moved from the open position, this switch button extends to the tripped position, and the RBVS contacts change state, thereby opening or closing a circuit. A cover tamper switch is available and is activated by the removal of the RBVS housing cover. If an attempt is made to remove the RBVS by the removal of the mounting brackets, the unit will be set into the tripped mode by this action.
Unique Features
It is the only tamper switch on the market that was designed specifically for ball valves
Weatherproof NEMA 4 housing
Mounts directly to 1/2" - 2" ball valves or backflow preventors
Can be used on open or closed valves
Codes and Approvals
UL, cUL
FM
CSFM
Required by IBC & IRC, 2009 - 903.4 for valves in alarm trim on dry pipe and alarm check valves
Required by NFPA 72, 2010 - 23.8.5.10.4
Engineering Specifications
Ball Valve Supervisory Switch: UL, cUL Listed and FM Approved supervisory switch specifically manufactured for monitoring ball valves shall be furnished and installed on ¼ turn ball valves that can be used to shut off the flow of water to a portion of the sprinkler system including the trim piping on alarm check or dry pipe valves. Locations shall be as indicated on drawings and plans and as required by applicable local and national codes and standards. The supervisory switch shall monitor the position of the handle on the valve and be capable of monitoring a valve in the open or closed position. Movement of the valve handle from normal shall activate the supervisory switch. Restoration of the valve handle shall cause the supervisory switch to automatically restore to normal. There shall not be any tools or extra steps required to restore the supervisory switch to normal. The enclosure shall be corrosion resistant and rated NEMA 4. The cover of the device shall be secured by the use of a tamper proof screw. All mounting hardware necessary for the installation on valves ranging in sizes from ½" – 2" including backflow preventors shall be included. Each ball valve switch shall contain 1 SPDT contact rated 10A at 125/250 VAC and 2A at 30 VDC. Ball valve supervisory switch shall be model RBVS as manufactured by Potter Electric Signal Company LLC.
Additional Information for Engineers:
It allows for easy compliance with the international building & fire codes
The trim on all dry pipe, wet alarm check and preaction valves provides for a shut-off valve in line to the pressure type waterflow switch. If the valve is closed, a waterflow alarm cannot be initiated
Installation Tips
The plunger of the RBVS switch should be in direct contact with the metal handle of the valve. It may be necessary to cut away part of the rubber handle coating
Try to locate the plunger where the valve handle is least likely to flex or bend
Tech Tips
The cover tamper switch version RBVS-T is not necessary. The cover is held in place with tamper proof screws like all other Potter products
Additional Information
Click here to view more info about the RBVS
For additional questions, contact customer service: sales@pottersignal.com, or tech support: tech@pottersignal.com
---
Back to Latest News