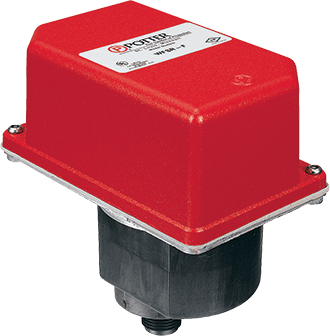 The Model WFSR-F is a pressure operated switch with an adjustable, instantly recycling pneumatic retard to prevent false alarms due to water pressure variation. The WFSR-F is connected into the alarm port of a wet sprinkler system alarm check valve.
Unique Features
The first and only waterflow pressure switch with retard
0-90 second field replaceable retard
Two conduit entrances
Codes & Approvals
UL, cUL, FM, CSFM, CE, VdS
Complies with the requirements of NFPA 13, 13D, 13R and 72
Engineering Specifications
Pressure Type Waterflow Switch with Retard: UL, CUL Listed / FM, VdS Approved and CE Marked pressure type waterflow switches shall be furnished and installed on the alarm port of each alarm check valve where indicated on the drawings and plans and as required by applicable local and national codes and standards. Pressure type waterflow switches shall consist of a non-corrosive ½" NPT male nipple for connection to the alarm port of the alarm check valve, a non-corrosive pressure chamber and diaphragm, field replaceable instantly recycling adjustable time delay mechanism to prevent false alarms from water surges and two SPDT switch contacts. The device shall be NEMA 4 rated and the enclosure shall be held captive by tamper resistant screws. It shall be possible to install an optional cover tamper switch to detect removal of the enclosure. The device shall be listed for pressures up to 175 psi and shall be factory set to operate at 5-8 psi. The activation point of the device shall not be adjustable. A minimum pressure of 5-8 psi is required to activate the retard timer. Any interruption in pressure shall reset the timer. Expiration of the retard time shall result in the operation of two sets of single pole double throw (SPDT) switch contacts rated at 15A, 125VAC and 2A, 30VDC. Pressure type waterflow switch shall be model WFSR-F manufactured by Potter Electric Signal Company LLC. All in-line valves shall be electrically supervised in the full open position.
Additional Engineering Information
Eliminates the need for retard chambers which can clog and lead to unwanted alarms
No maintenance required
The set point is fixed so it can't be set to the wrong pressure
Installation Tips
All pressure switches should be Installed with the pressure connection pointing towards the floor if possible to prevent debris for clogging the pressure chamber
Do not use pipe dope to install pressure switches because the dope could clog the pressure chamber
This can only be used on wet pipe systems that have an alarm check valve
Tech Tips
There are 2 sets of SPDT contacts, one can be used to connect to the fire panel and the other for a local bell. The two outside screw terminals are normally open. The center screw terminal is not used
Under normal conditions there is no water or pressure in this line. When the alarm check valve opens this line becomes pressurized
Additional Information
If there is a shut off valve in line with the WFSR-F it should be monitored. Closing this valve can prevent an alarm. Use the Potter RBVS to monitor ball valves
Click here to view more info about the WFSR-F
For additional questions, contact customer service: sales@pottersignal.com, or tech support: tech@pottersignal.com
---
Back to Latest News