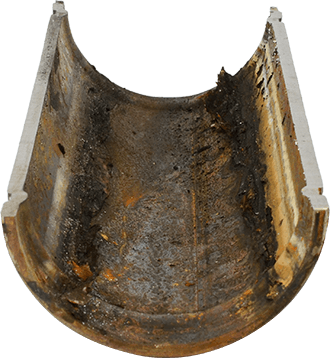 Pipe Sample Test
Pipe Sample Test
---
This test is designed to conform to the requirements of NFPA 25, 2002, 13.2.1.2 requiring testing for MIC if slime or tubercles are discovered in an internal inspection. The test involves removing some of the slime, deposit, scale, tubercules, mounds, etc. from the pipe section at Potter for microbiologically influenced corrosion (MIC) analysis.
The pipe section will be evaluated for wall loss and MIC damage.
Upon receiving the sample, the lab will establish a chain of custody and prepare the sample for bacterium extraction. Five groups of bacteria will be cultured: Heterotrophic Bacterium which determines if the majority of bacterium are anaerobic (without air) or aerobic (with air) in nature; Slime Forming Bacterium (aids in tubercle formation); Iron Related Bacterium (iron-pipe oxidizing and reducing bacterium); Sulfate Reducing Bacterium (causes pit corrosion) and Acid producing Bacterium (causes pit corrosion). The testing will take approximately 9 days to allow for bacteria culture growth. A full written report will be provided approximately 15 business days after testing is started.
---
Documents & Resources
---
Videos
---
Literature