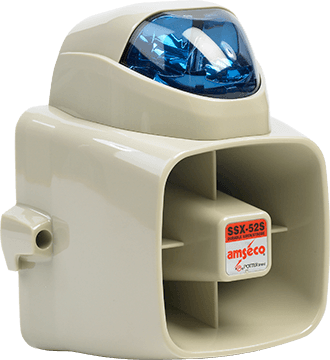 SSX-52 Series
120dB Durable Siren or Siren Strobe
---
The SSX-52 is a durable indoor/outdoor self-contained siren. The full featured siren consists of a single tone that delivers a warble sound output, 120dB output siren driver, and a dual action reed plunger for cover and rear protection. The SSX-52 is provided with a strong polycarbonate housing and a sturdy aluminum back plate to prevent warping and cracking. The SSX-52 comes completely assembled and ready for installation.
The SSX-52S Siren-Strobe is also available. It includes all the great SSX-52 features with the addition of a colored strobe. The strobe uses a colored mirror and lens to ensure that the color can be easily distinguished, and is available in amber, blue, clear, or red.
The SSX-52/52S excels in noisy areas such as warehouses, loading docks, print shops, busy production floors, or for indoor/outdoor applications where high quality and high output warning is required.
---
Documents & Resources
---
Literature