Potter Electric Signal Company, LLC of St. Louis, Missouri USA, announces the release of the IntelliCheck™ Advanced Leak Rate Monitor, which will grant users improved monitoring of dry and pre-action sprinkler systems using a supervisory gas supply.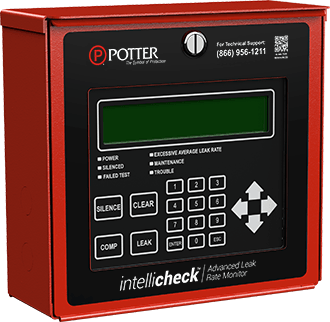 The IntelliCheck has been designed to provide similar data to the IntelliGen® controller on existing or new sprinkler systems not utilizing Potter nitrogen generators The IntelliCheck monitors system pressure, compressor runtimes, ambient temps, leak rates, and runs NFPA 13 and NFPA 25 leak rate tests. These abilities will allow personnel to detect system leaks sooner, and even determine if compressor maintenance is needed.
In addition to monitoring capabilities, the IntelliCheck also integrates seamlessly into Potter's IntelliView™ dashboard allowing users to remotely view the device's status and data on their computer, tablet or smartphone. This will allow facility managers to take advantage of IntelliView's data charting and tracking capabilities, which in turn allows users to diagnose gas and compressor demand more effectively. Additionally, the IntelliCheck's accessibility to IntelliView also allows users the ability to download NFPA leak test reports required for inspections.
Andy Kaempfer, Potter's Director of Product Management for the Sprinkler Division said,
"We believe that the IntelliCheck will simplify the process of monitoring a building's existing dry and pre-action sprinklers. Our goal with this product is to provide intelligent insight into what's really going on inside a sprinkler system and allow owners and service contractors to act more proactively."

To learn more about Potter's IntelliCheck Advanced Leak Rate Monitor click here!
---
Back to Latest News