Potter Electric Signal Company of St. Louis, Missouri announces the release of the PAD200-PCD Photo/CO combo device.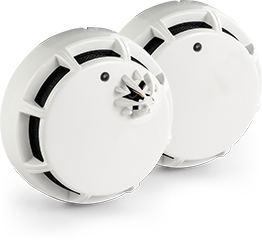 By combining multiple elements of fire detection (smoke and CO) into a single device, the PAD200-PCD smoke/CO detector reduces cost and installation time. The PAD200-PCD detector is compliant with UL 268, UL 2075, and UL 521 7th Edition.
The PAD200-PCD detector uses high quality photoelectric smoke detection, and features drift compensation with a built-in dirty detector warning. The carbon monoxide sensing portion uses a proven electrochemical sensor for accurate detection of CO gas. The PAD200-PCHD incorporates both above elements with a proven thermistor for accurate and reliable heat detection.
Amy Liedman, Potter's Director of Product Management for Fire and Security said
"We at Potter Electric are excited to introduce the PAD200-PCD and PAD200-PCHD. These detectors will round out our detector portfolio, bringing more options to our customers. These detectors offer our customers reliable multi-sensor detection and prevent false alarms, along with flexible sensor programming to accommodate customer and building requirements."
For more information on the PAD200-PCD and PAD200-PCHD, please visit the following product pages:
---
Back to Latest News