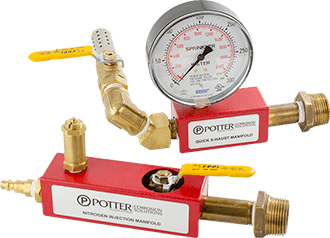 AquaN₂ Kit
Wet System Inerting Kit
---
The Potter AquaN₂ Kit is designed to quickly and effectively exhaust oxygenated air from a wet fire protection system and replace it with high purity nitrogen gas. Reducing the oxygen levels in wet fire protection systems is essential in protecting the system from the effects of oxygen related corrosion often found at the air water interface in the fire sprinkler piping.
Using the AquaN₂ Kit, which includes the Nitrogen Injection Manifold (NIM) and the Quick X-Haust Manifold (QXM), in combination with a Potter Automatic Air Release (PAAR-B) or Potter Air Vent (PAV) and a nitrogen source, can easily remove up to 99.9% of oxygen from a wet system. Also, by removing as much air as possible, the fire sprinkler system will have increased performance, eliminating delayed activation or cyclic activation of vane type waterflow detectors.
For more information on the AquaN₂ Kit visit our Corrosion Solutions Portal.
---
Documents & Resources
---
Videos
---
Literature
Potter Academy Training This product is featured in the Potter Academy training hub. To get started, click a course below or to learn more about Potter Academy, click here.