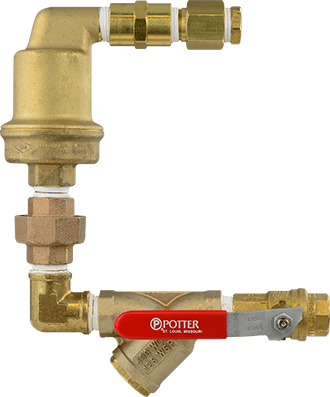 NGP-SPV
Self-Purging Valve Kit
---
The Potter Nitrogen Self Purge valve (NGP-SPV) is designed to work with Potter Nitrogen Generators Systems to effectively purge corrosive oxygen from a fire sprinkler system while maintaining adequate system pressure. Potter's Self Purge Valve is the easiest way to ensure high purity nitrogen is equally distributed throughout the fire sprinkler system. Simply install the NGP-SPV off a tee connection at the end of the sprinkler system. No electrical connections are required. When the nitrogen generator is in operation the purge orifice automatically bleeds out the oxygen as well as the residual moisture in the system. The purge valve also provides a sampling port to monitor the nitrogen purity within the system piping.
In the event of an alarm condition the NGP-SPV has a built in high pressure water shut-off valve that automatically closes when the water reaches the vent. A plug is supplied to keep the purge orifice free of debris when not in use. A ball valve allows for isolation of the assembly, maintinance of strainer screen, replacement of air vent, or maintinance of the purge orifice.
---
Documents & Resources
---
Videos
Introduction to Potter Corrosion Solutions
How Nitrogen Protects Your System
The Potter IntelliGen™ Advantage
---
Literature
Potter Academy Training This product is featured in the Potter Academy training hub. To get started, click a course below or to learn more about Potter Academy, click here.