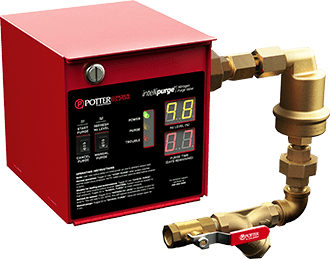 INS-PV
IntelliPurge® Nitrogen Purge Valve
---
The INS-PV Potter IntelliPurge® Nitrogen Purge Valve is designed to work with Potter Nitrogen Generators to effectively purge corrosive oxygen from a fire sprinkler system. Potter's INS-PV is the easiest and most effective way to ensure that high purity nitrogen is equally distributed throughout the fire sprinkler system. Simply install the INSPV at a remote point in the fire sprinkler system and start the purge cycle. The built in nitrogen analyzer samples the exiting gas, providing up to date information on the nitrogen levels in the fire sprinkler system. Once the INS-PV has measured that the fire sprinkler system has reach 98% N2, the unit automatically stops purging and signals a successful purge. Even after the system has stopped purging, the INSPV periodically samples the gas within the sprinkler system, ensuring that the fire sprinkler system is at 98% N2 and the fire sprinkler system is protected. Dry contacts are provided for BMS notification. Using the optional INS-RA Remote Annunciator up to 27 INS-PV units can be networked together, allowing for large nitrogen applications to be easily controlled and monitored from one convenient location.
For more information on IntelliPurge Nitrogen Purge Valves visit our Corrosion Solutions Portal.
---
Documents & Resources
---
Videos
---
Literature
Potter Academy Training This product is featured in the Potter Academy training hub. To get started, click a course below or to learn more about Potter Academy, click here.