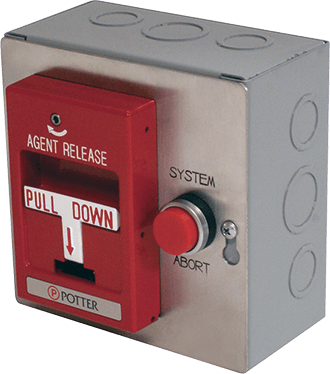 MAS
Agent Release / Fire Suppression Pull and Abort Station
---
The Potter MAS Agent Release/Abort Switch is designed to be used with any releasing system. The device consists of a manual pull station and a push button abort switch. This device is designed for indoor use only.
The MAS-Agent Release/Fire Suppression & Abort Station was developed as a way to mount manual pull stations and abort buttons in a convenient and attractive NEMA 1 rated metal enclosure. This unit is capable of being surface mounted or flush mounted (using 5370559 Bezel)
The RMS-1T Release Pull Station (Red, As Shown) and RMS-1T (Yellow) are single pole, single throw die-cast aluminum electrical switch. This pull station has a 0.5-amp snap action switch and dedicated terminal block for the ease of wire connections. All of the metal is completely coated to inhibit corrosion and provide for a uniform and quality finish. The standard model has a hex key reset. Electrical wiring diagrams are included with the product.
---
Documents & Resources
---
Literature