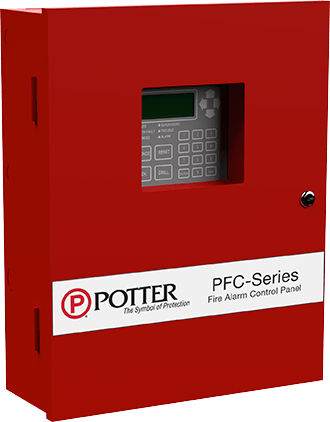 PFC-6006
Conventional Fire Panel for Small or Fire Sprinkler Systems
---
The PFC-6006 is a listed small conventional fire system ideally suited to monitor a small fire system such as a fire sprinkler system. The first input is selectable as a Class A or Class B water flow input and the other five zones are selectable from a menu of options including two-wire smoke detection. The panel has a 1.0 amp power supply that powers the panel, charges the batteries and supplies 0.5 amps to a notification appliance circuit and 0.5 amps of auxiliary power. The auxiliary power is programmable as constant or resettable.
The control panel is in a metal cabinet with a key lock and lexan window for viewing the system status. The printed circuit assembly is mounted for quick removal and installation to allow the cabinet to be installed with minimal effort. The cabinet houses up to two 12VDC, 18 AH batteries.
The display is a thirty-two (32) character LCD with system status LEDs. The system status is clearly displayed and the panel includes a history buffer for past events. The key pad allows navigation into the system menu, limited programming and system control. The condition and events on the panel are clearly displayed to allow the user and installer to determine the system status.
The panel has a dual telephone line digital alarm communicator transmitter (DACT) built on-board. One or both telephone lines may be enabled to allow communication to a remote monitoring station. In addition, an updated panel configuration may be sent to the panel through the telephone lines. The panel has line in and line out to allow the panel to be installed ahead of other telephone equipment on the premises.
The panel will support up to four (4) of the RA-6075 remote annunciators on the P-Link bus. These annunciators include a metal enclosure with a key lock and provide full functionality of the system.
---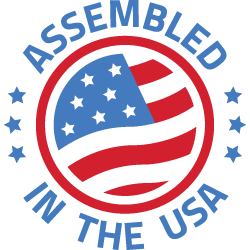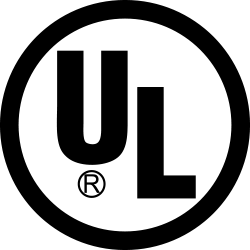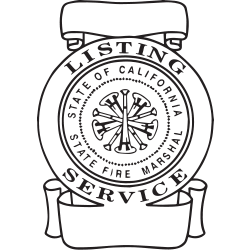 ---
Documents & Resources
---
Software
Potter Fire Panel Programmer

V9 and later will no longer support Windows Operating Systems prior to Windows 10.

exe

|

zip
10.2.94
Facility Management Software Learn More
exe

|

zip
1.3.2.0
---
Literature