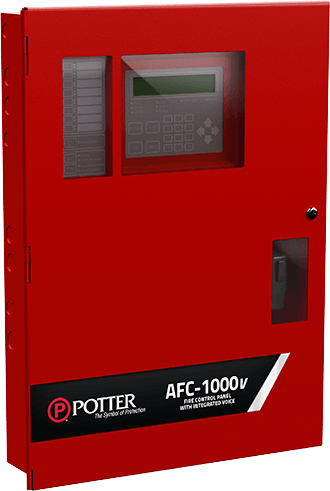 AFC-1000V

New!
Integrated Voice Panel
---
The AFC-1000V is an enhanced version of the IPA-4000 addressable fire alarm system, now with voice integration. The panel features all pre-existing fire highlights and shares new innovative voice functionalities to provide reliability and safety with the panel. The panel introduces the VM-1000 voice module and digital message repeater to deliver audio to designated remote amplifiers. The VM-1000 contains two V-Link channels (audio riser outputs) to support single and dual channel amplifiers. The voice module also includes a supervised low level auxiliary input to interface with external audio sources and supports applications requiring background music. The AFC-1000V is equipped with an ECS user interface providing 8 programmable push buttons for speaker and ECS zone assignment, LED indicators to display activity and trouble conditions, and common user function buttons for All Call and CTRL.
The optional SB-24 (Switch Board w/24 Programmable Switches) will offer 24 additional programmable push buttons. A maximum of four (4)SB-24's can be installed, offering up to 96 programmable push buttons.
The AFC-1000V can link up to ten (10) SCA (single channel amplifier)or DCA (dual channel amplifier) amplifiers, thirty (30) LOC-1000 (localo perator console) and one (1) FFT-1000 (Firefighter Telephone System).
The Potter Panel Programmer introduces Audio Patterns which allows users to select and create audio files easily and effectively from the user's laptop. The programmer offers an internal library of predefined message and tones for common emergency conditions. Audio Patterns provides the ability to conveniently record and import audio files directly from a laptop.